Main.TrailIndexPage | Steering System | Manual Steering
Manual Steering
This component is part of Steering.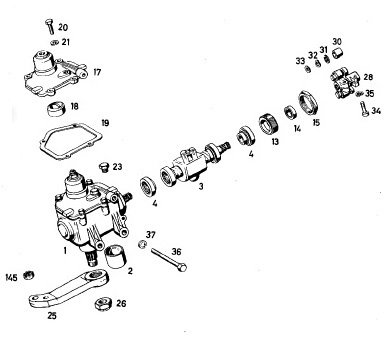 Old Yahoo content
The following is the content from the old Yahoo documents on the site. It needs to be structured and edited in the correct sections of the entire document. After moving particular content to its correct place in the manual, please delete it here.
---
Does anyone have any info how to eliminate excessive slack in non-powersteering '65 230 SL. I have tightened the steering head, replaced all the tie rod ends. Is there a rebuild kit?
I recently had a '65 250 SL without power steering. It had new tie rod ends on it when I bought it but still had sloppy steering. I believe that the "drag link" was the problem. More specifically, the drag link ends. You could jack the driver side body up a little and reach in and turn the wheel while watching the front steering members. That's how I discovered it. I replaced it and the steering dampener and all was well.
How about the steering coupling? It sits behind the steering box and you need to look at it from inside the car by pulling up the bell shaped housing around it.
When I replaced the pinion seal, I made the tool for the pinion nut by welding two little tabs on another large nut. Worked perfectly. Also on advice of a Mercedes mechanic, I scribed the position of the nut to the pinion, so when retightening could return to the almost exactly the same torque (plus a little) considering the pinion uses a crush bearing.
< Pump | Main.TrailIndexPage | Bleeding the power steering >