Main.TrailIndexPage | Interior | Seatbelts
Seatbelts
This component is part of Interior.
Seat Belt or Safety Belt (German: Anschnallgurt or Sicherheitsgurt)
Mercedes Seat Belts
From a Daimler press release (http://media.daimler.com/dcmedia/0-921-657486-1-862113-1-0-1-862121-0-1-0-614318-0-1-0-0-0-0-0.html?TS=1452194861602):
Restraint and assistance systems
Seat belts in all Mercedes-Benz passenger cars from 1958
''After the introduction of the safety passenger cell with crumple zones at front and rear and the reduction of potential sources of injury within the passenger compartment by the use of padding and new materials, efforts to achieve a high level of crashworthiness were predominantly directed at restraint systems in the 1970s. Safety developments that were started in the era of the ESV (experimental safety vehicle) project, such as belt tensioners and airbags, were perfected and incorporated in production vehicles. The basis for the development of restraint systems was the introduction of the seat belt as an equipment option. This was announced in 1957, starting with the Mercedes-Benz 300 SL roadster.
In 1958 – just one year later – seat belts were available for all Mercedes-Benz passenger cars equipped with individual front seats. The first seat belt versions were lap belts. Federal German Chancellor Konrad Adenauer was one of the customers to opt for these early dual-anchorage seat belts. A lap belt was installed for him in the rear of his Mercedes-Benz 300. From 1961 onward, Mercedes-Benz exclusively offered dual-anchorage shoulder belts for individual seats. Standard seat belt anchor points facilitated retrofitting and were introduced for front seats in November 1961, for rear seats in 1962. In 1966, the simple belts stretching from shoulder to seat that had been the norm until then were replaced by three-point seat belts. Until the introduction of the three-point inertia-reel seat belt as standard equipment on the front seats in 1973, the seat belt remained an optional item of equipment. With the installation of seat belts as standard equipment, Mercedes-Benz was acting in advance of the law obliging motor manufacturers to install front seat belts as standard as of January 1, 1974.''
Seat Belts in W113 cars
Very early 230SL cars have two pre-installed mounting points for seat belts, one on the B-pillar and a second one on the transverse beam above the tunnel. Later in the production the second one was moved forward on the tunnel above the seat bracket: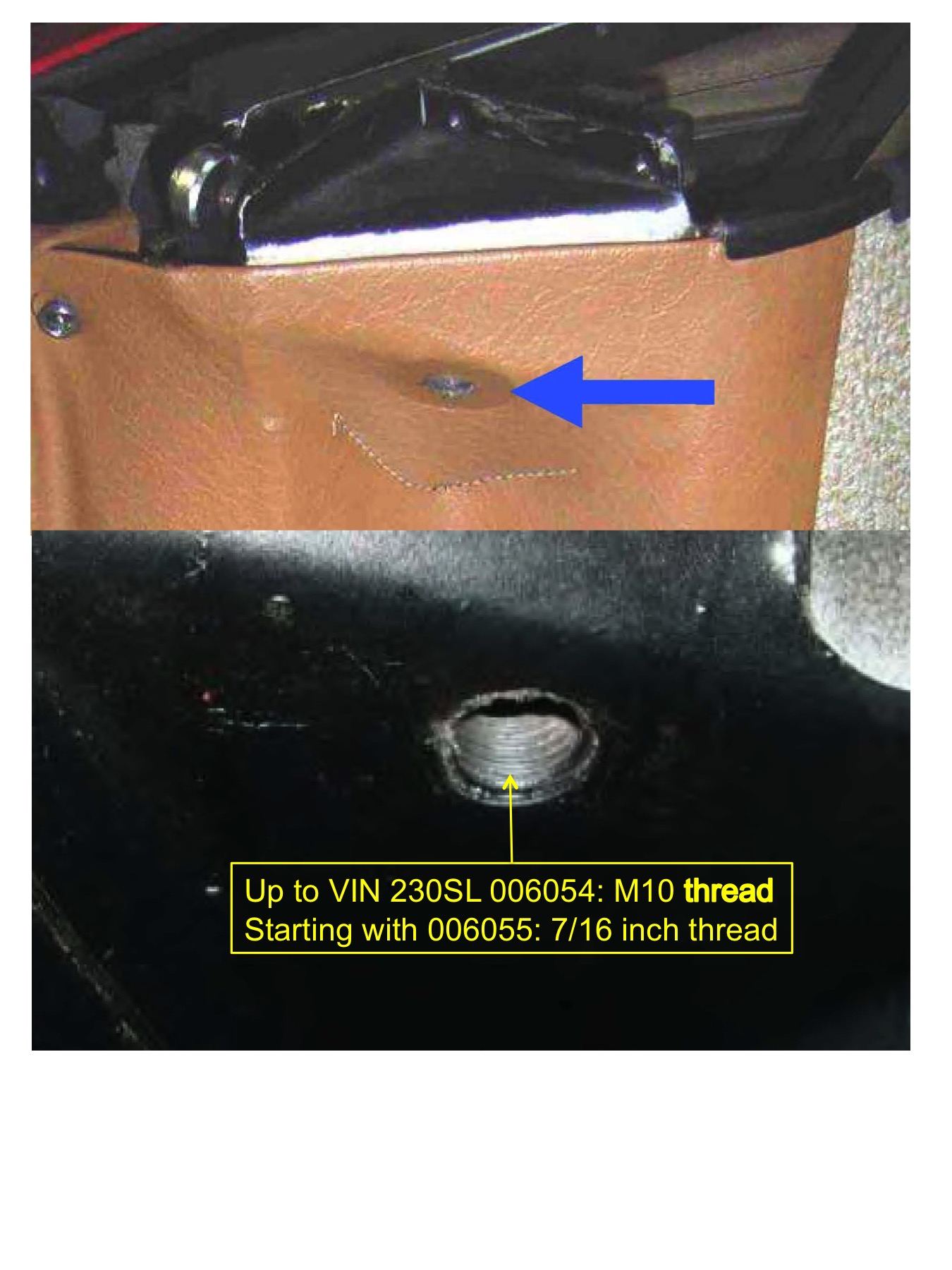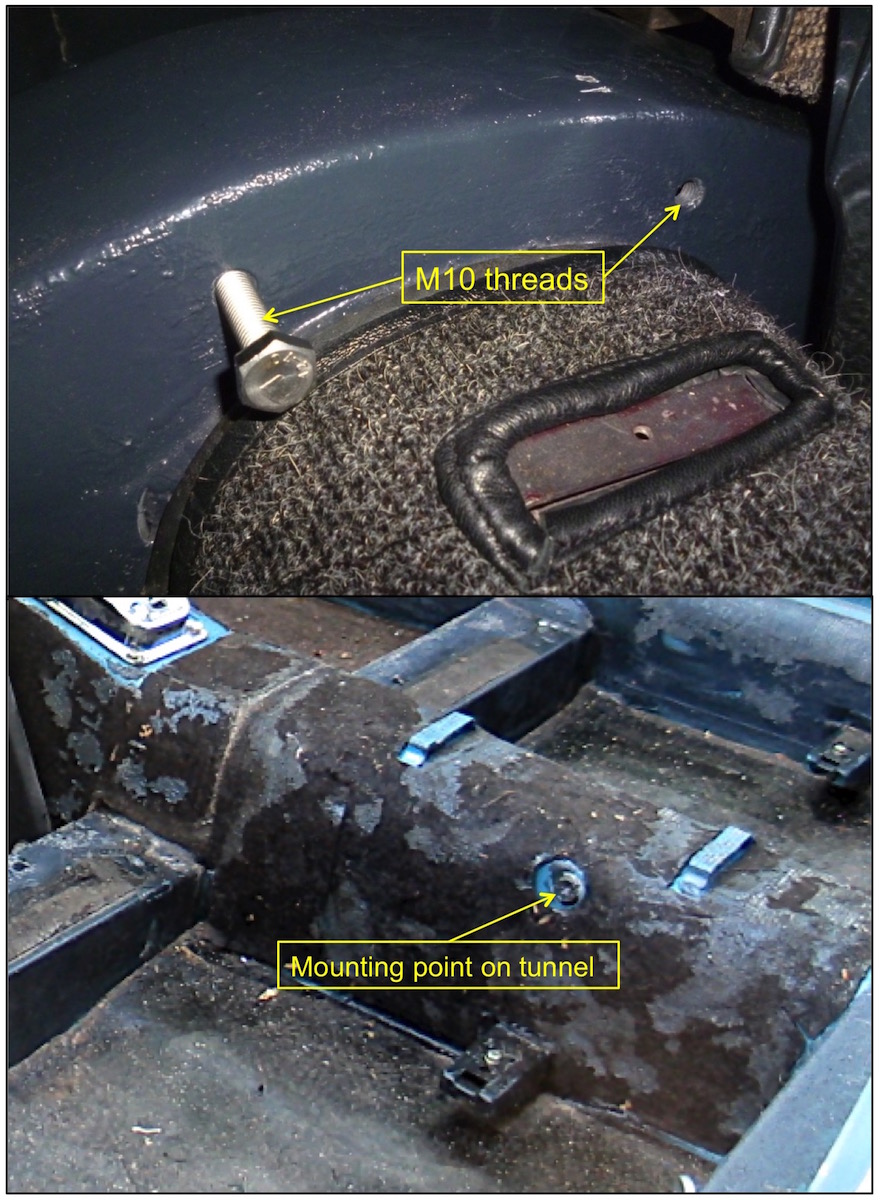 and belts could be ordered with part number (p/n) 113 860 04 85 and Option Code 431. Although no detailed information or photos of these belts can be found it is most likely that they war shoulder belts. This p/n was superseded by p/n 113 860 09 85 starting with VIN 006055.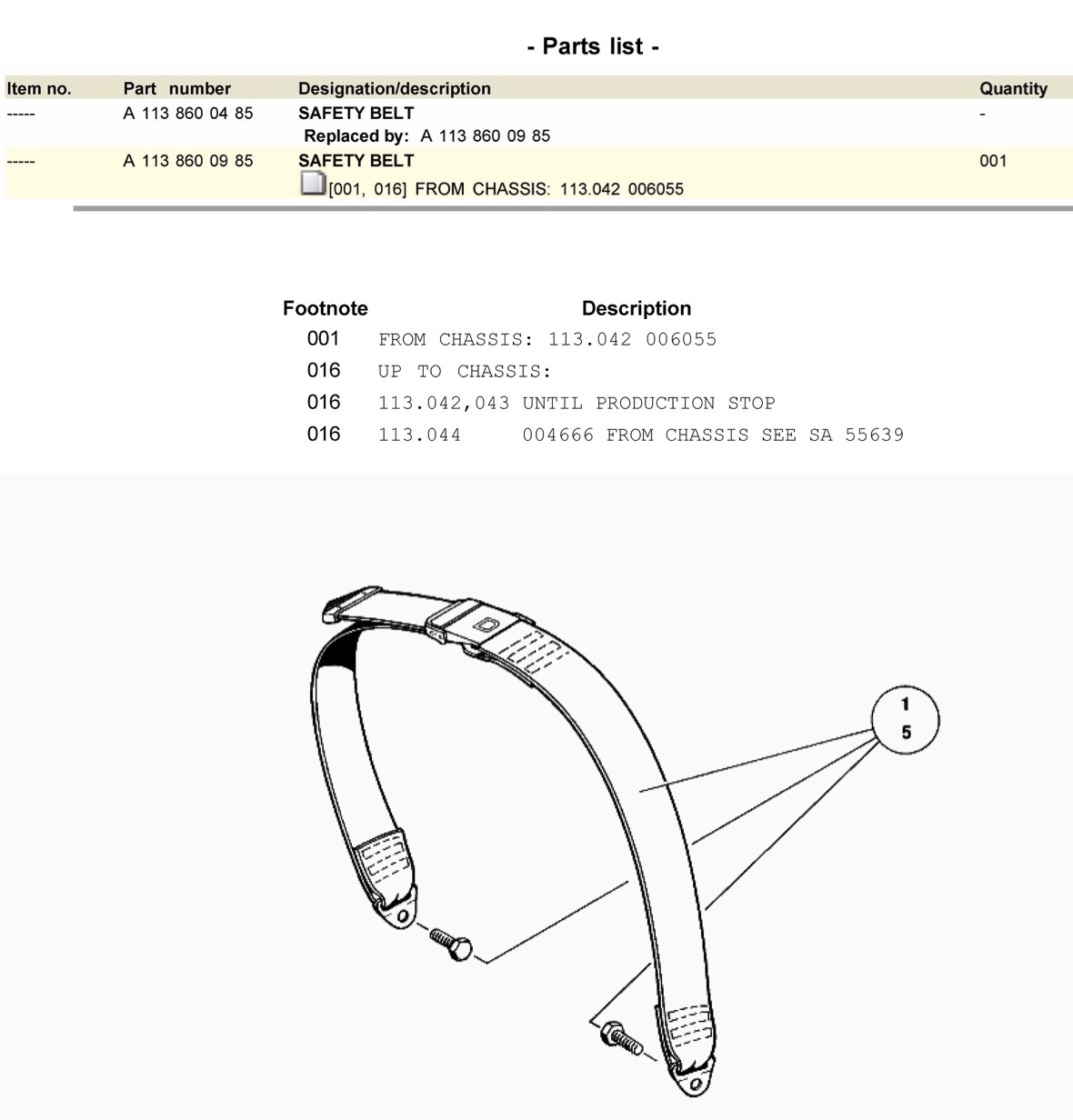 On March 18, 1966 and VIN 015693 the floor boards in 230SL cars were changed to accommodate the installation of static 3-point seat belts. The three mounting points for such belts are on the B-pillar, the tunnel and behind the seats on the transverse beam. All of them have 7/16" threads.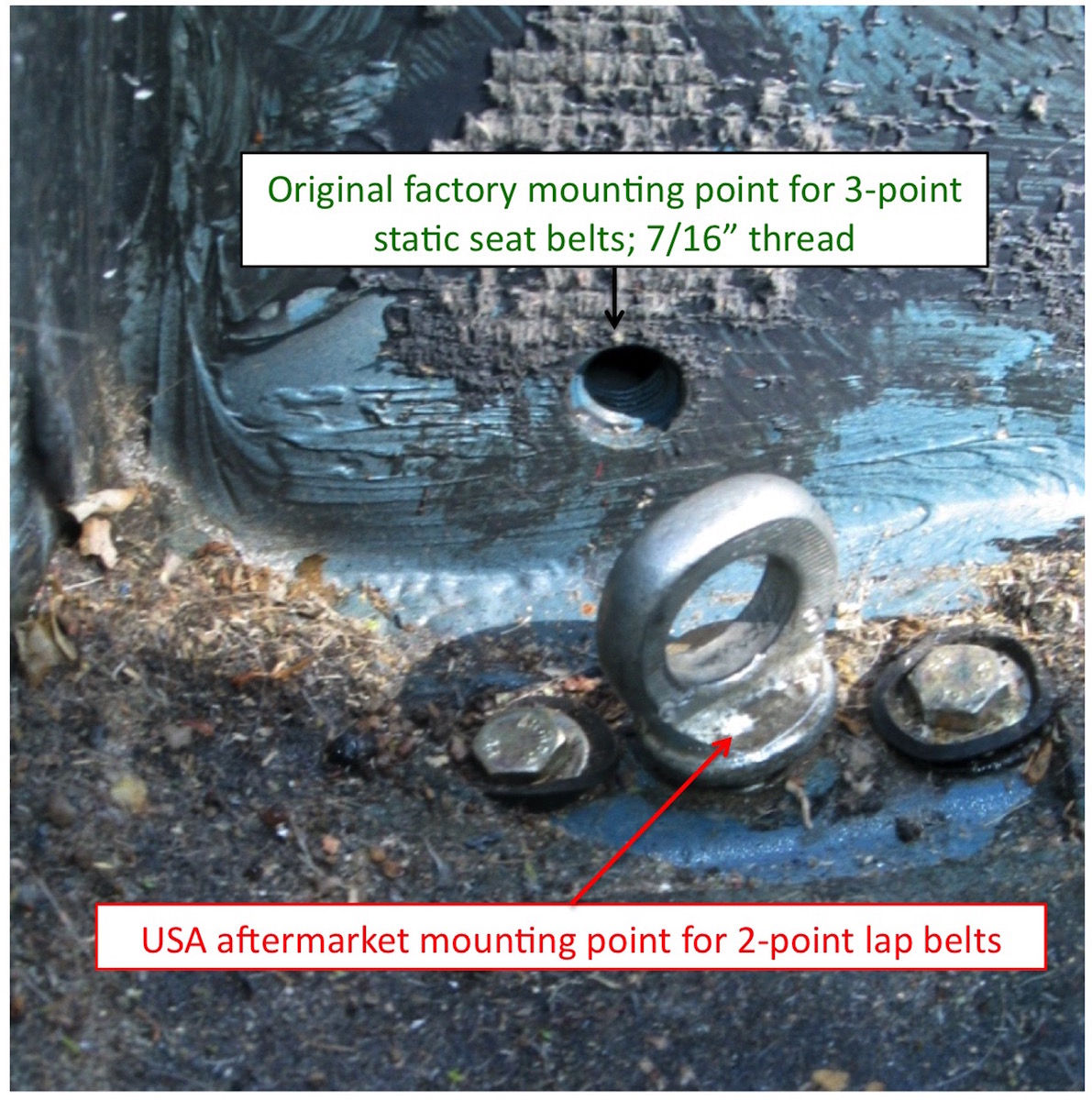 In 1985, long after the end of the W113 production, Mercedes-Benz of North America published instructions for the installation of automatic locking retractor seat belts in early 230SL cars without mounting points for seat belts: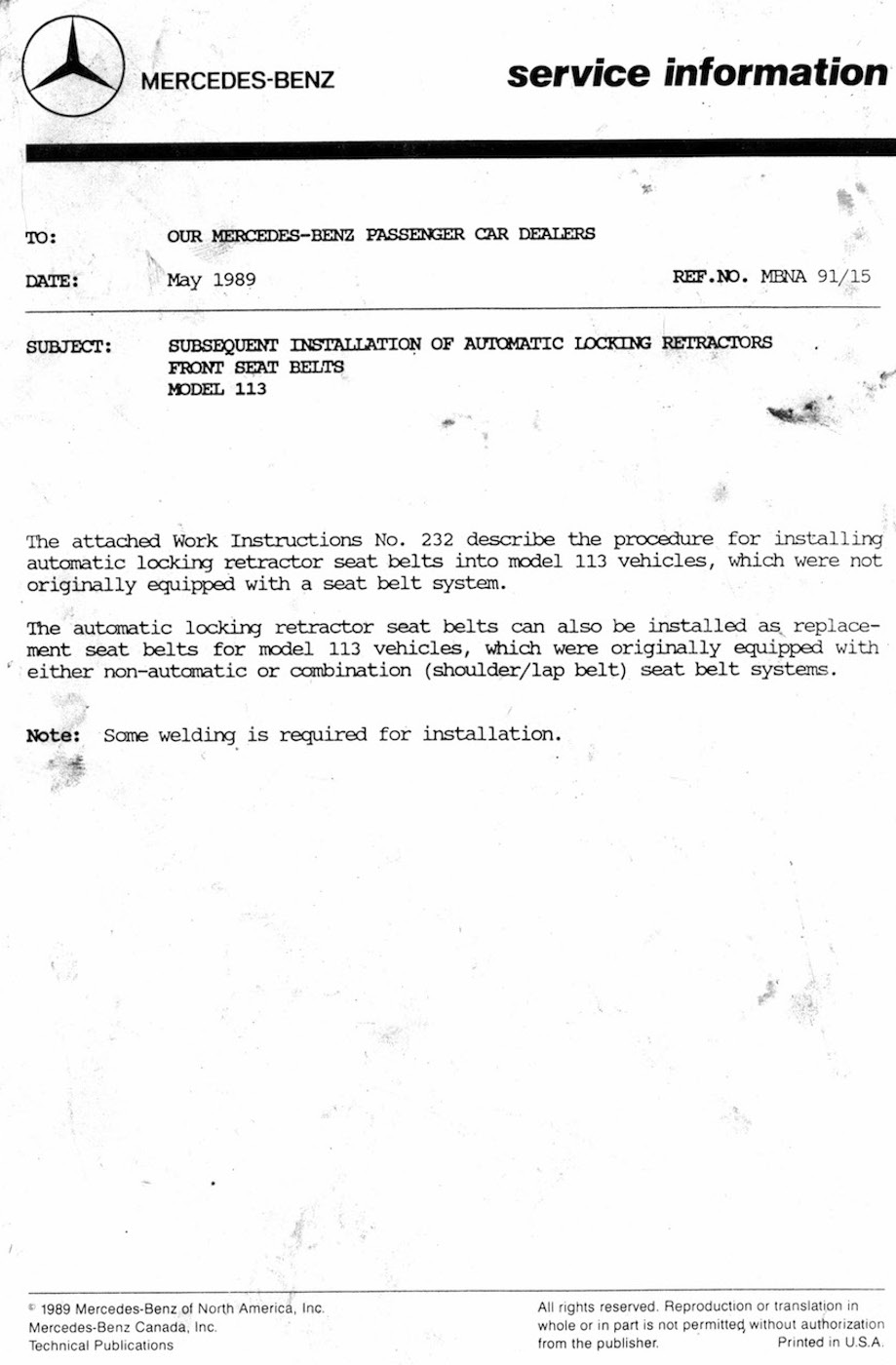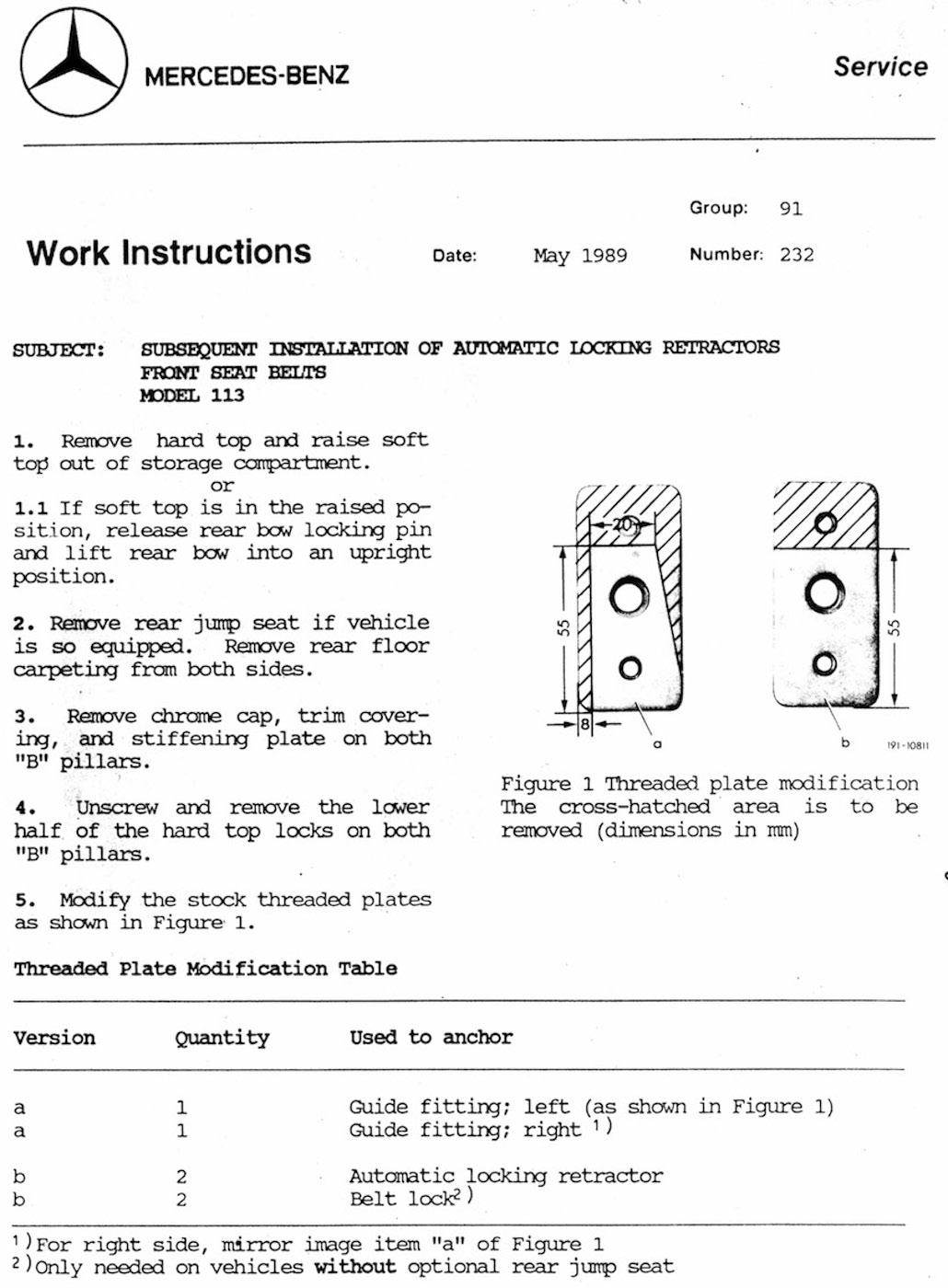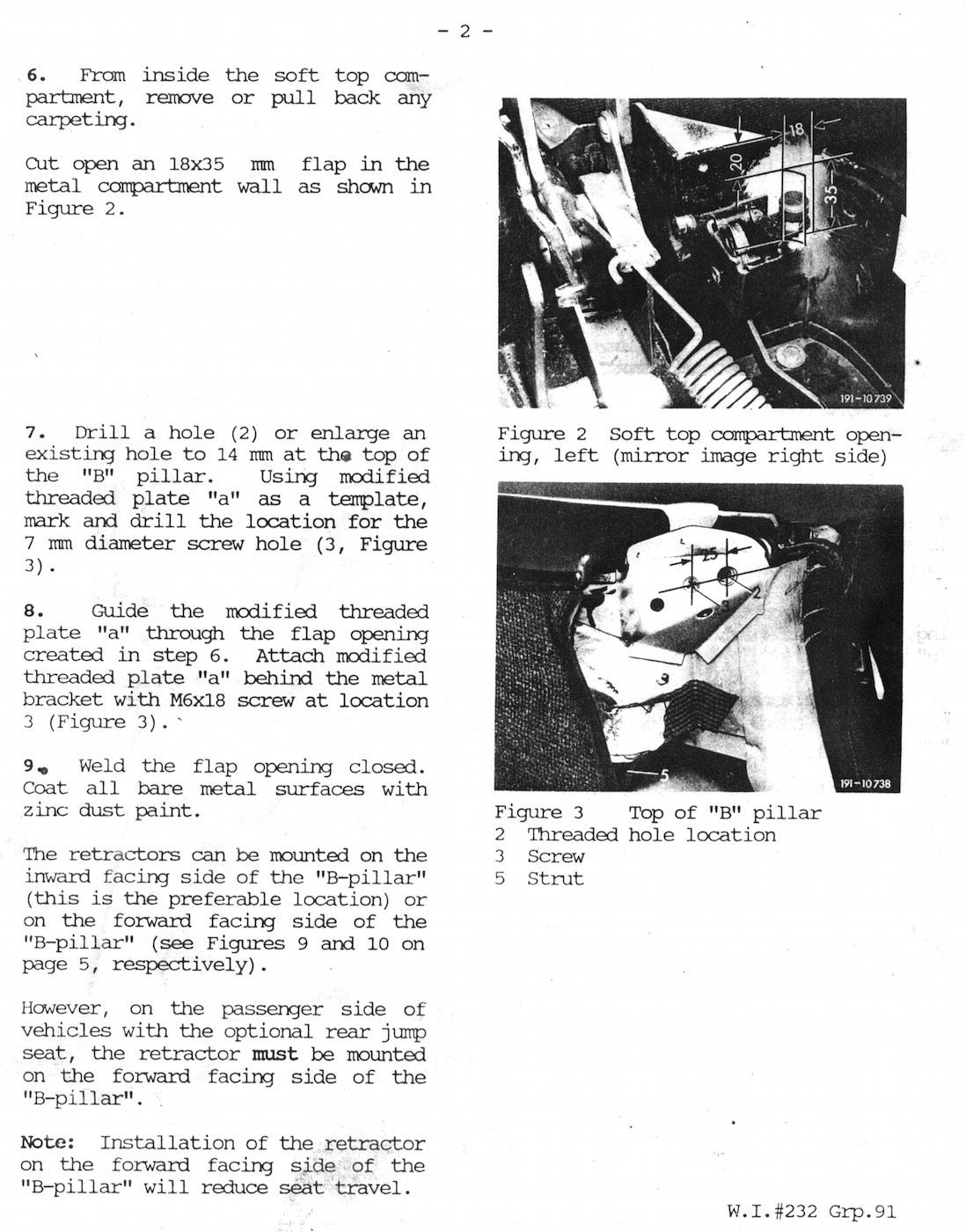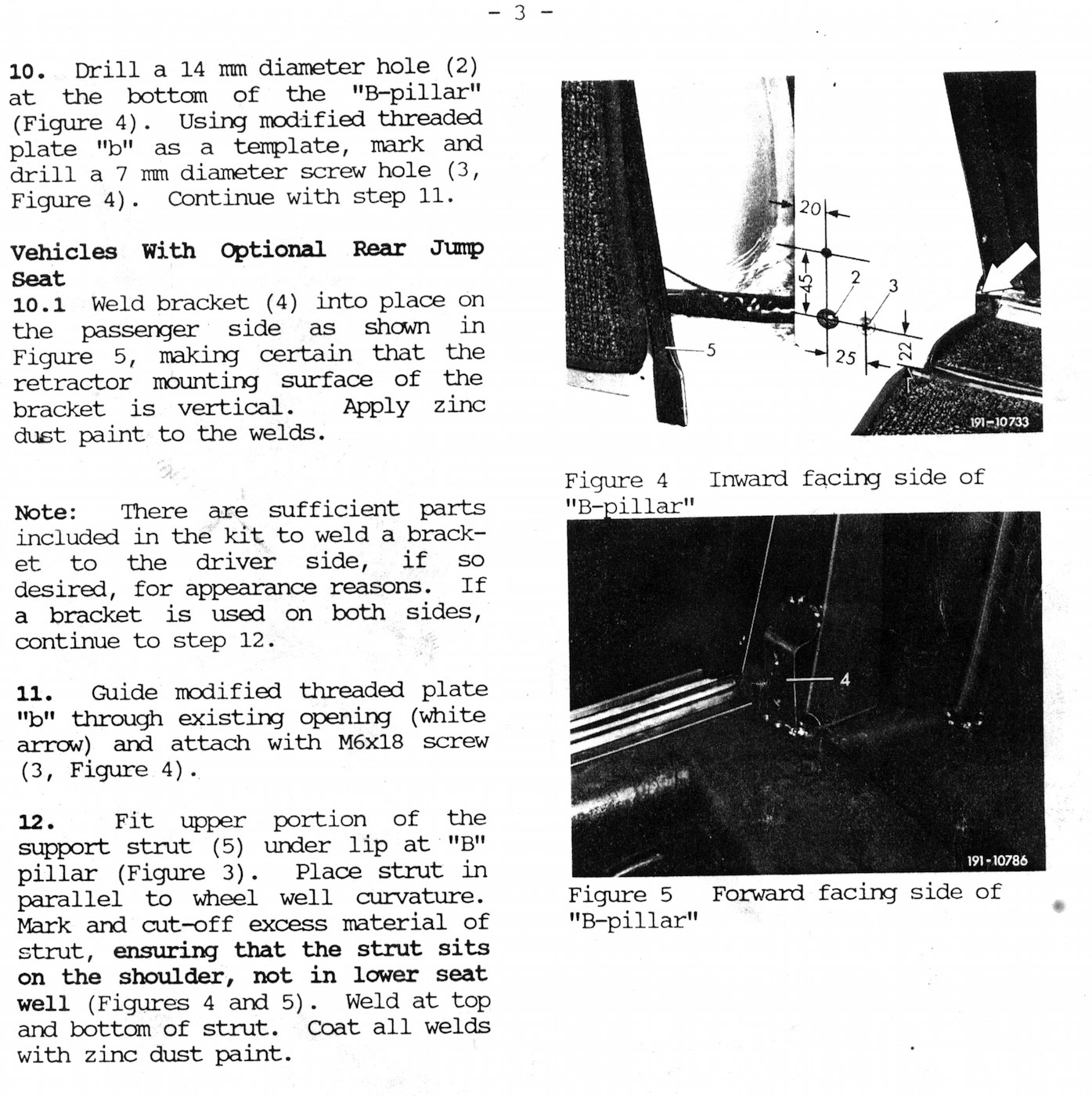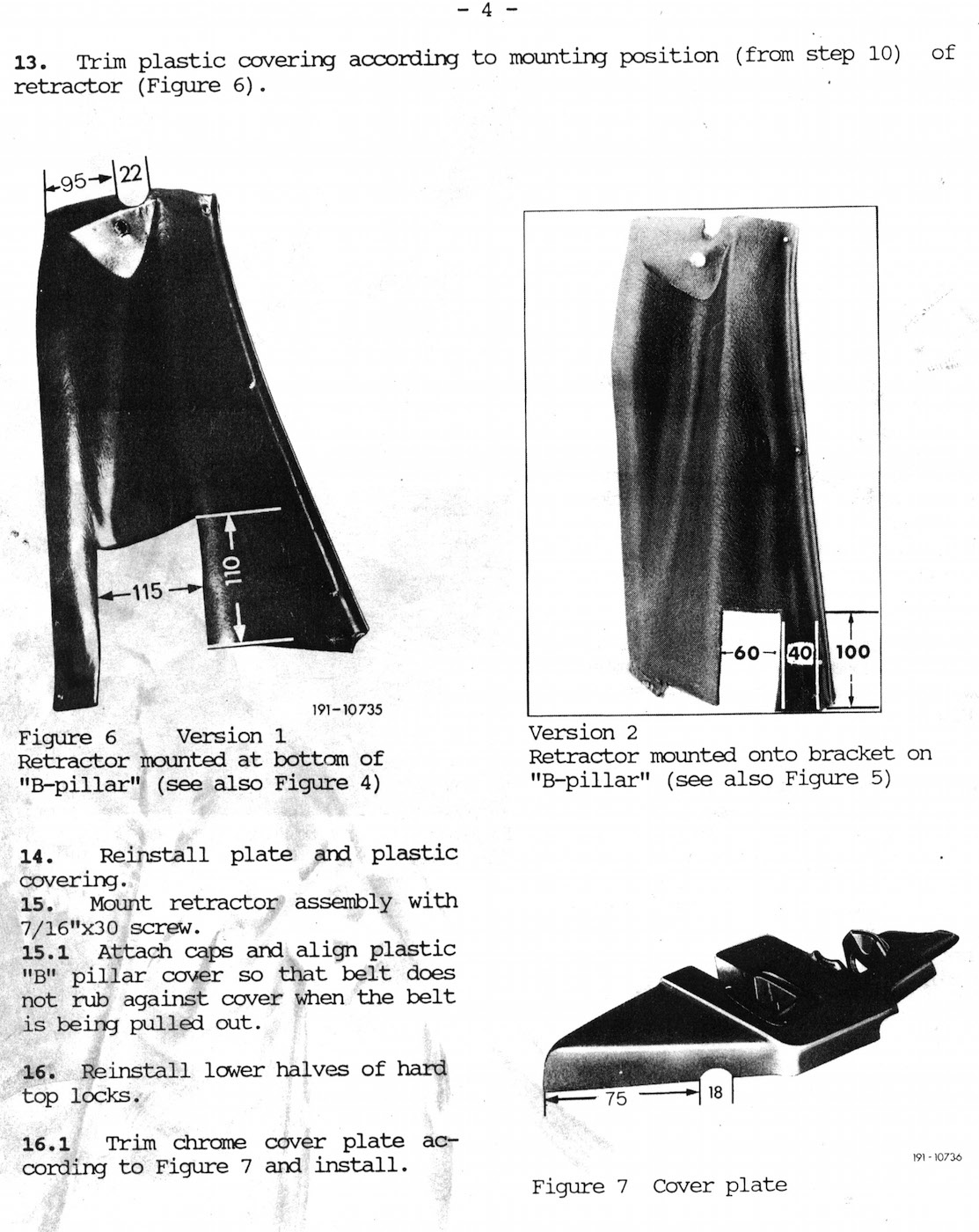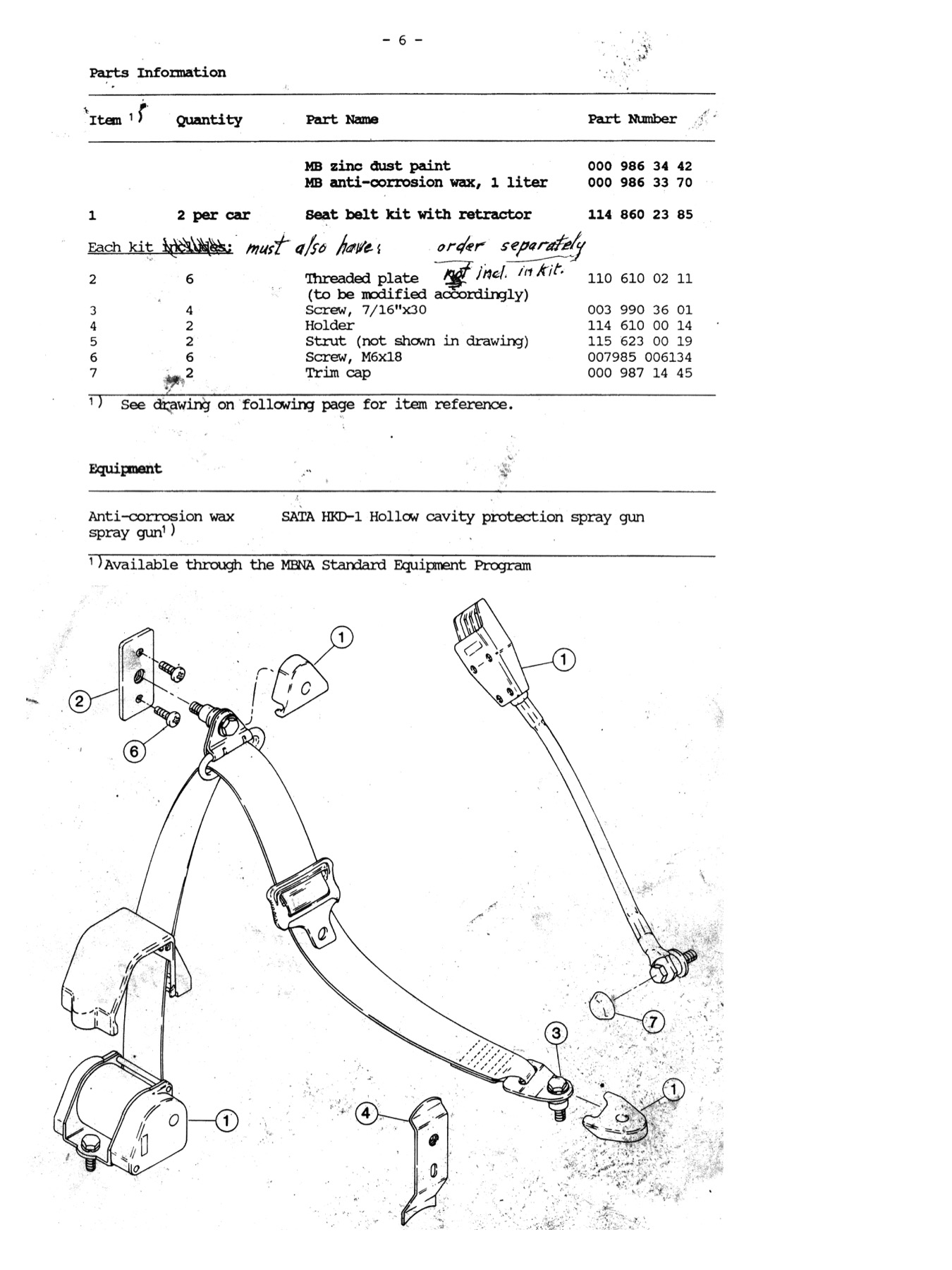 Kangol Seatbelts
Since about July 1969 owners could order 3-point static seatbelts made by Kangol from Mercedes-Benz as a special option (part number: 113 860 11 85) for cars equipped with three mounting points (230SL after VIN 015719 and all 250SL and 280SL).
The company issued the following installation instructions: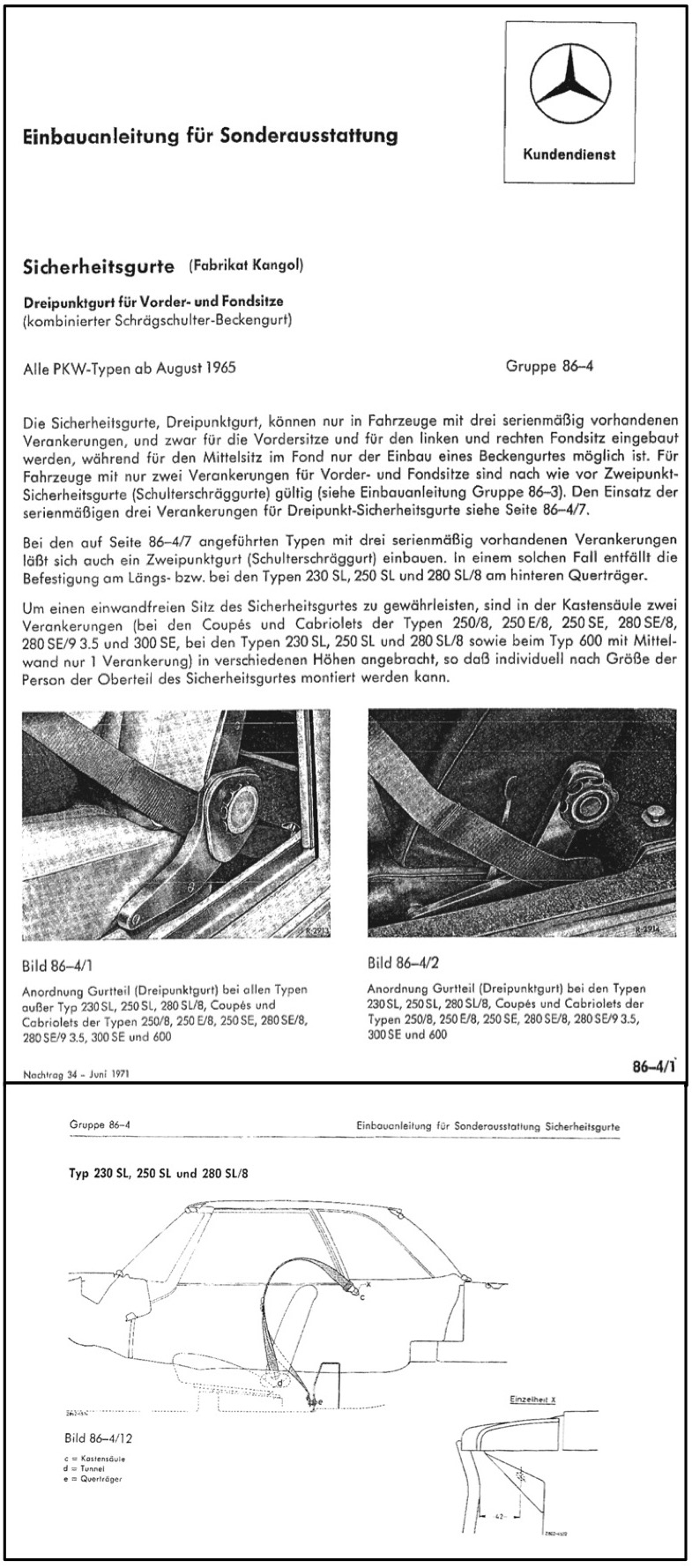 Originally these belts showed the Kangol logo on the buckle but later ones had the Mercedes star.
Only static 3-point seatbelts were available for W113 cars.
Kangol Retractable Seatbelts
Although Kangol Reflex retractable seatbelts were introduced in the late 1960s they were never offered by Mercedes as an option. However, it is possible to install 3-point retracting seatbelts by mounting the retractor spool either behind the seats in front of the transverse beam or under the parcel shelf.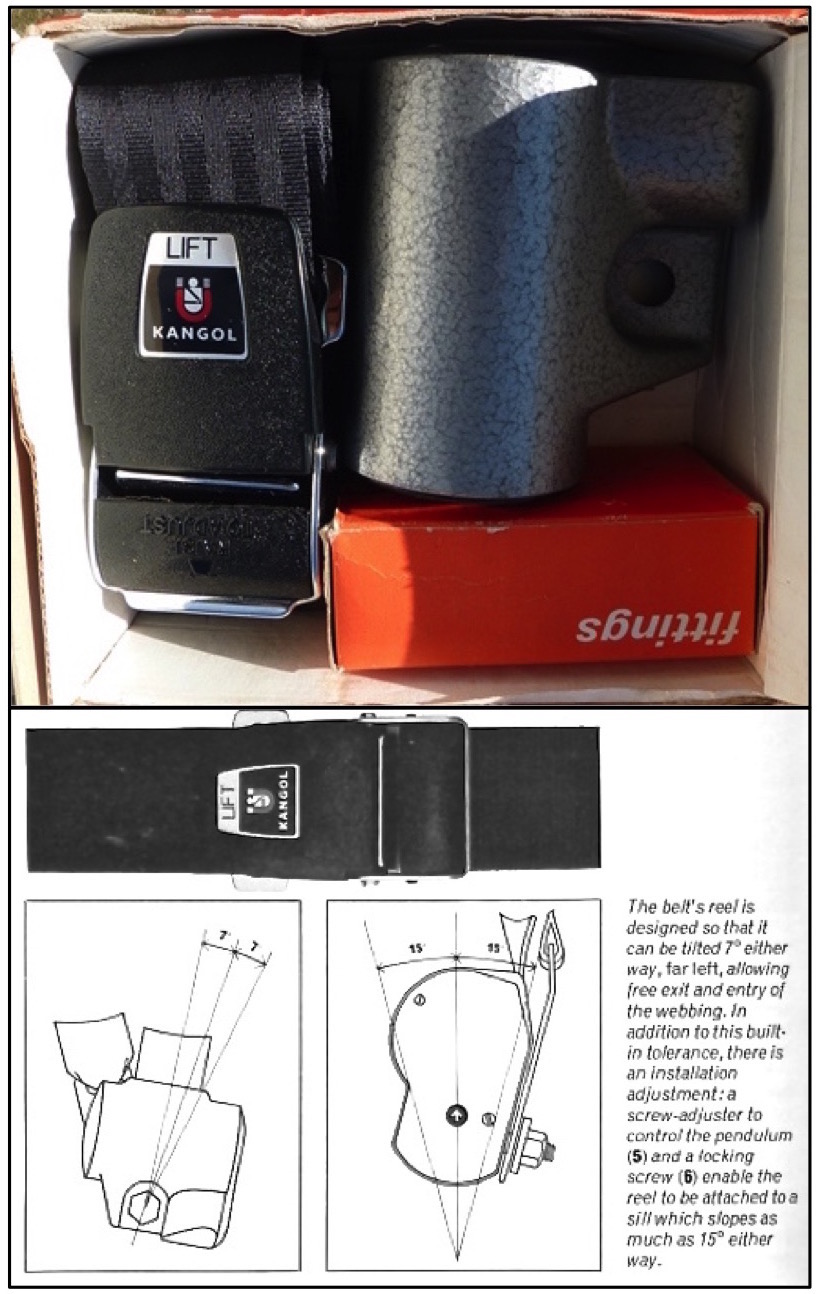 Buckling up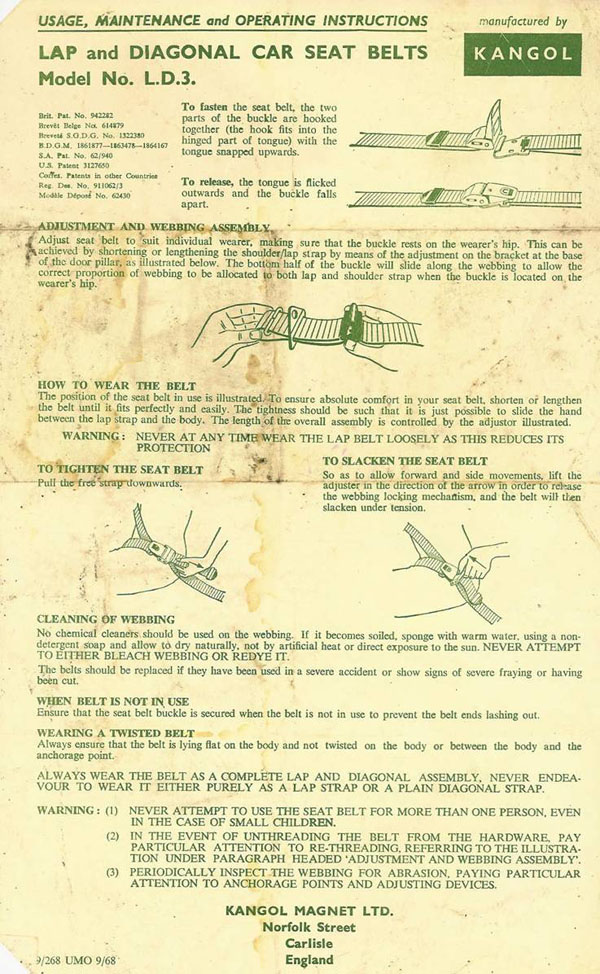 Hickock Seatbelts