Main.TrailIndexPage | Interior | Interior.Carpets
Carpets
This component is part of Interior.
The original carpet in the early cars (230) was a coarse woven wool (Square Weave) with a relatively large integrated rubber foot area for the driver. These cars had Boucle (square weave) carpeting. For early 230 SL production, up to VIN 012466, some carpets actually had two threads with different colors, e.g. black and grey square weave carpet combined with black interior.
There was changed in the 280SL's to a synthetic pile (Loop Weave) carpet with a smaller plastic foot rest area for the driver.
A carpet supplier may ask if the buyer wants the old style or the 280SL style. A Show Car would want to use the correct weave.
The original rubber mats were kept in place by short studs screwed into the floor and the firewall.
A good way of telling if your carpet is original is if you have the molded rubber pad next to the accelerator pedal (i.e. the gas pedal) on your front tunnel carpet in exactly (!) the same way as John's (thelews) and (Badali)'s cars. If it is different, yours is aftermarket.
The surround around the gear lever should be a glued rubber grommet for any 230 SL;
Sadly the separate rubber ring of the earlier cars (111 997 1081 Grommet 230SL, 250SL up to VIN#001092) is NLA.
Carpet Source
A good source of correct carpet (and tops) pre made for all our cars is KHM in Esslinger Germany. Maybe some, but I think all the carpets sold in the USA are coming from Germany. Most of the carpet manufactures are in Europe. One supplier in USA, GAHH, allowed you to order the leather bindings. Most all of the other carpet kits from World, Buds, etc. are going to come with vinyl bindings. Prices vary because of the labor.
GAHH and World both cut the carpets, Buds gets the kits from a supplier. GAHH is the most expensive because their carpets are cut be a computer cutter, and then hand stitched. It's all about what your taste is and what you want to spend. They are all going to look good. Call/write each one and ask for samples. They will gladly furnish you with samples, then compare.
Carpet for 230SL
For those who are in the market for a new square weave carpet, here is what to expect: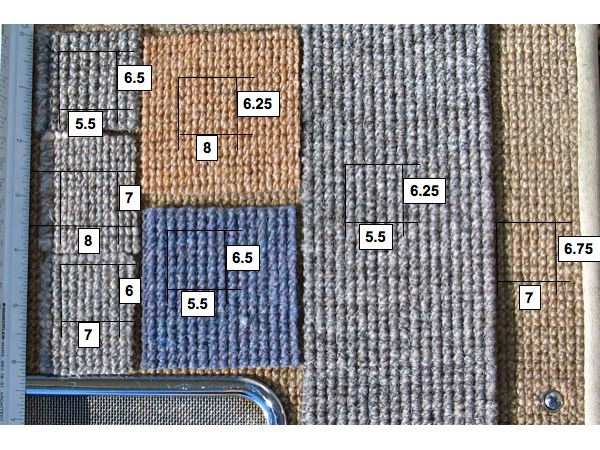 The carpet in the background is a 230SL original, it has 7 loops per inch horizontally (I believe the weavers call this the weft), with 6.75 repeats vertically (the warp), so it is almost square. One of the more popular vendors on this site sent me the carpet with the lowest number of loops (in both directions). Of course, some may prefer a coarser weave than others but I think that the fewer the loops per inch the lower the price should be since it takes less yarn.
Another difference is the backing. The white samples has a heavy glue backing and I am wondering why this would be necessary.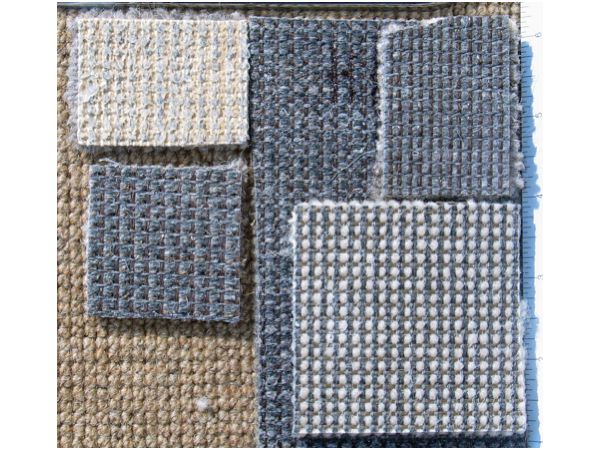 Also note, whatever carpet is on the floor is on the seatbacks.
Maintenance
To Be completed
The following is the content from the old Yahoo documents on the site. It needs to be structured and edited in the correct sections of the entire document. After moving particular content to its correct place in the manual, please delete it here.
---
Note: in this particular section, lots of content is all over the place and needs to be moved to other pages...
Does anyone have any experience with the rubber mats in the front footwells? Although they were standard equipment (as least for the early cars), you almost never see them. The one car that I did see them on also had what appeared to be foil-covered insulation pads beneath them. Does anyone know if this is correct? Also, what (if anything) went under the trunk mat? I have typical American 'jute' padding underneath the trunk pad, but I doubt it's what DB would have used originally.
My 1970 280 SL has the aluminum-backed insulation under the carpeting as well. Under that is a 4-5mm bitumen plate for sound deadening. Nothing went under the trunk mat and I think jute is probably not so good because of the moisture retention?
I am trying to reconcile conflicting information that I have received from various sources concerning original colors of headliners for W113ís. I am told that there were three shades of off white, but I am not able to define which shade was correct for my 280 SL which has a blue interior and exterior and according to a chart of available options put together by Richard Hattaway should have a white headliner (code 9002). There is also cream (8036) and light bamboo (8038). I don't know if these are MB codes and designations for those headliner shades, but all the sources I have turned to in Los Angeles. GAHH, Veteran Upholstery Supply, World upholstery etc. , use their own designations. Most of their colors vary and I have seen at least five different shades/ colors of the MB hole pattern headliner fabric. I would describe them as follows:
White (clean, white as snow)
Beige or off-white, has a very slight beige or tanish tint (I guess I could see it being called light bamboo?). In the past I just thought it was an aged or nicotine-stained originally white)
Tan or cream? is maybe a little lighter than a brown card board box, definitely not an off-white
Grey, this is clearly grey, definitely not an off-white
Off-white with an ever so slightly grey tint (this shade is possibly being called Grey by some suppliers, but is not close to the previously mentioned actual Grey).
Of course each supplier insists that their two or three shades are the only true shades originally used on our cars. Can anyone shed any light on this issue? I have taken every single piece off the hard top to repaint it and it will never be this way again so I'd like to use the correct shade of headliner, which I believe to be something quite close to white or MB 9002 white, if that is in fact the MB designation.
Achim says: Two quick answers to your questions and concerns.
The headliner is still available from Mercedes; I don't know the part number right now (113 795 anything) and it is available in different colors. I got mine a very few years ago in WHITE (snow white) and it was about 110 German marks. This should be today equally to roughly $70 in the US.
As far as I know (this is definitely the case for the 230 but it should be the same for the 280 SL) there were two colors for the 230 SL - white and light cream and very likely three for the 280 SL - the three described by you. The color codes you mentioned are the original actual codes by Mercedes which they use today. These sometimes differ from the color codes they had in the 60ies. 230ís with blue interior always had white headliners and (I strongly believe) 280ís too! But unfortunately I have my color code lists, which are original from Mercedes, at home in Germany - not here in NY. My recommendation: buy a new headliner from MB. Personally, I always check first whether a part is still available from Mercedes and how much it is. If a part is too expensive or no longer available then I check other sources. I strongly recommend to you all to do the same. You won't believe how many parts are still available nowadays and often really affordable.
I'm trying to make the decision now with my 230 SL. Here is what I have figured out so far:
The vinyl used in the 230SL is different than the vinyl in the 280SL. The 230SL version is no longer available. The 280SL version has a much coarser grain.
The sellers of interiors usually do not know there is a difference - be careful what you buy!
The same is true of leather.
The 230SL used a basketweave insert; later models used a pinhole pattern. Make sure you see a sample of the insert as well.
The best ones I've seen so far from from GAHH and World Upholstery. Best bet is to send them a sample of your current interior to match.
The top of a 230SL seat is about 1.5". The 280SL is about 2.5". Make sure the upholstery will fit your car.
Replace the horsehair pads at the same time you do the seat covers. All the ones I have found have been 2.5" thick: the recommendation is to trim the back so it is thinner. I am not sure it is that simple. The pictures I have seen show the 230SL seat as less contoured than the 280, so the result may still be incorrect.
You can order a complete leather interior, with pads and boards (for the doors) for $2200 USD from GAHH.
The GAHH seat insert pattern is not correct: the holes between the pleats are too large and too widely spaced. "That's the way it is", they said (nicely) when I pointed this out.
I still haven't decided where I am going to buy mine. I have natural light vinyl now (#114), which has to be replaced by natural light leather (#219). I'm looking for other SLs that have this leather installed, and waiting for some more samples to arrive. Comments, disagreements, questions?
Try http://www.cabrio.de. They use the MB factory in Sindelfingen to do the leather perforation pattern with the original tools as used on your SL.
My late 280SL came with the front and rear of the long sill carpet piece missing (driver side)...I hope to get a piece of carpet, cut and bind it myself...the rear 20 inches and the front 24 inches are missing...can anyone help with a template or dimensions of this piece? I have the entire passenger side, is this an exact mirror image of the driver side?
Yes the carpet is an exact mirror of the passenger side. Use that one as a pattern and reverse the cut lines so you have two opposing sides. you will need to investigate where the piping border goes as mine is in tatters from long exposure to the weather and moths.
Achim says: interior items are one of the toughest problems we go through during restoration. Although solutions often seem to be so simple (GAHH or others) but in rality they aren't at all. If you do not find the color you are looking for, the only solution is to buy a material (either raw skins or already sewn) and re-dye it a bit darker. The other solution that most people do in this situation is to exchange the whole interior to have it all in a matching color. The original MB tex seat covers were still available a few years ago. However, one major drawback: color code numbers have been changed over the decades, thus, it might be very hard to find out whether your color code 114 (which is the data card code) is still available. For instance, interior code 220 is/was leather dark blue - original color code 5300 which is now replaced by 5020 dark blue. Thus, it might be necessary to do some serious detective work.
I read the archives about cleaning vinyl...I have tried: soap and water, dishwasher detergent, Vinylex, etc...and three different types of brushes, plenty of elbow grease but the 30 years of dirt won't go away...it's not grease or oil, just plain old fashioned dirt... At a car show on Sunday, one person looked and suggested that the dirt was under layers of vinyl protectants like Armorall and that I have to remove the surface layer to get at the dirt...he suggested a wipe down with lacquer thinner to remove the top layer then a cleaning...any comments?
I would caution you strongly against using any solvents to clean your seats. Take a stroll over to http://www.leatherique.com. George and Christie have products that work wonders for MB Tex and leather. I've been using their products for years and can't say enough good things about the products and for the service and support from Christie and George.
To get 1st class material for upholstery, carpet, tops & headliner, GAHH in CA has a very good reputation. World Upholstery is also good & I used them for leather seat kit, wool carpet, windlace, wool "mouse fur" for headliner & Top material for sunroof in the restoration of my Ponton sedan's interior. Both are top dollar sources. Bill Hirsch has a good rep as a supplier of leather, MB-Tex, carpet & conv.top material & is a vendor who's been around awhile & who advertises regularly in The Star as does Bud's Benz from whom I recently got a good price & decent quality for MB-Tex seat kits for my 230SL. Square weave carpet is available from multiple vendors in wool & synthetics, but is not exactly like the original, I understand; but close. Bud's Benz (in The Star) will sell you a refinished wood kit, but best quality probably would be from your own wood removed & sent to Heritage Wood Works in NC, also in Star.
I have almost completly removed the interior MBTex door panel on a 70 280sl, but it is caught up on the door relaease lever and box. How do you remove the black plastic concave box that surrounds the interior door release lever, so I can remove the door panel??
The little plastic piece has two small slits at the end of the plastic (I think that these slits are on the end toward the rear of the car). Use a small "pick" (one of those pointed ice pick type tools you can pick up at the hardware store). This will pop the plastic off.
Pull the release handle out as though you are opening the door. Where the handle comes through the surround, at its forward most part, put a small screw driver under the plastic and pry it out. Beneath the plastic is the metal surround, which has a screw in the center holding it to the door frame. If I remember correctly, the handle itself is held to the door by this same screw. So, once the screw is out the handle is held only by the linkage that connects it to the door release. Be careful when pulling the panel past the handle. The panel comes off without problems, but you can not be heavy handed or you can tear things up a bit. Once the door panel is off there are days worth of projects lurking inside the door. One of the most important things to take care in doing is to glue plastic over the inner door prior to its reinstallation. This is the water protection for your door panel and if not done correctly will lead to the panel and its covering being damaged.
The heater levers is probably the most involved job in the dash besides the heater core & blower. I've never worked on these, but I've read the horror stories here. Understatements like, "You'll lose a little skin off your knuckles." Or, "MB assembly line techs. in the '60s must have been 10 year olds to get their hands in there." Besides the difficult space to work in, there are many steps to access the space and do the remove/replace itself. Reasons for the break? Well, the round levers move wires that move flaps. Flaps get stuck shut if not used. Dirt accumulates on wires and hinges over time. Plastic gets brittle over time. When people work on the radio or remove the instrument cluster or something else in that area, some people recommend to lubricate this system to prevent your type of break. I think frequent use is almost as good and much easier.
< Seatbelts | Main.TrailIndexPage | Interior.Upholstery >