Main.TrailIndexPage | Electrical Systems | Electrical.Relays
Relay
This component is part of Electrical.
Definition
A relay is an electrical switch that opens and closes under the control of another electrical circuit. In the original form, the switch is operated by an electromagnet to open or close one or many sets of contacts.
Because a relay is able to control an output circuit of higher power than the input circuit, it is a safe way to allow a lightweight switch to operate a strong current, for instance to power driving lamps (high beams).
Function
A simple electromagnetic relay, such as the one taken from a car in the first picture, is an adaptation of an electromagnet. It consists of a coil of wire surrounding a soft iron core, an iron yoke, which provides a low reluctance path for magnetic flux, a moveable iron armature, and a set, or sets, of contacts; two in the relay pictured. The armature is hinged to the yoke and mechanically linked to a moving contact or contacts. It is held in place by a spring so that when the relay is de-energised there is an air gap in the magnetic circuit. In this condition, one of the two sets of contacts in the relay pictured is closed, and the other set is open. Other relays may have more or fewer sets of contacts depending on their function.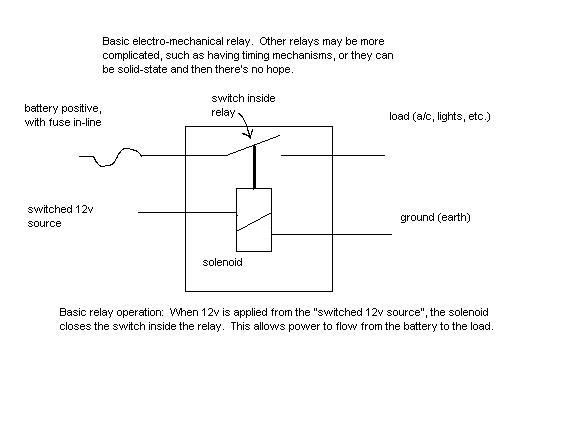 Types of relay
Since relays are switches, the terminology applied to switches is also applied to relays. A relay will switch one or more poles, each of whose contacts can be thrown by energizing the coil in one of three ways:
Normally-open (NO) contacts connect the circuit when the relay is activated; the circuit is disconnected when the relay is inactive.
Normally-closed (NC) contacts disconnect the circuit when the relay is activated; the circuit is connected when the relay is inactive.
Change-over (CO), or double-throw (DT), contacts control two circuits: one normally-open contact and one normally-closed contact with a common terminal.
Maintenance
Describe common maintenance procedures, and common faults that may occur. Describe how these may be diagnosed and resolved. Again, include diagrams, photographs and explanations. Where possible, include measures, tolerances, weights etc.
Symptoms when it faults
How to test if it is faulty - what tools to use
How to fix / change
Link to related components where appropriate.