Main.TrailIndexPage | Electrical Systems | Electrical.Lights | Light Bulb Alternatives - Brighter Bulbs !
Light Bulb Replacements
The original lights of the car can be replaced with more modern light bulbs, leading to brighter lights and better visibility. These replacements do not work for Sealed Beam, US headlamp assemblies for the headlights. They do work for other lights.
This section is part of Lighting Systems.
 Candlepower Inc
 14626 Southlawn Lane
 Rockville, MD 20850-1317
 Tel: 301.340.0224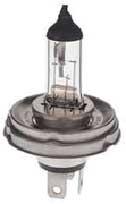 Headlights
48884 - This bulb combines the filaments of a modern standard halogen H4 bulb with the P45t base to fit headlamps originally equipped with R2 bulbs. Most vehicles' standard wiring will accommodate this bulb without any problem. Brings old European headlamps up to modern-car light levels. Extra durable for long life.
Osram also has Halogen lamps with the original base for European headlamps. Partnumber 64183 Bilux-AS-Haloroad-R2 45/40 Watt.
The Bilux-AS-Haloroad-R2 45/40 is completely compatible with the original and no longer available Bilux-AS-R2 45/40 und 55/50. The lightyield compared to the old lights is about 50% higher.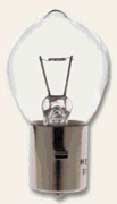 Foglights
49072 - This 35w bulb is used in many European fog lamps and driving lamps, notably German lamps on Mercedes models prior to the mid 1970s. This bulb is also used in many rotating emergency warning lamps.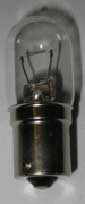 Front & Rear Turn Signals & Brake Lights
P3497 - 43% brighter than standard bulbs. The Krypton-charged P3497 single-filament bulb replaces the following original bulbs:
European P21W or 7506
American 1156, 1073, or 1141
Front & Rear Side Markers
3886x - This Osram MiniXenŽ 3886X mini bayonet (BA9s) base bulb has an ultra long life, and produces 85 lumens from 6 watts. That's up to 80% more light compared to the following standard bulbs:
European T4W or 3893
American 57, 57X, 1891, 1893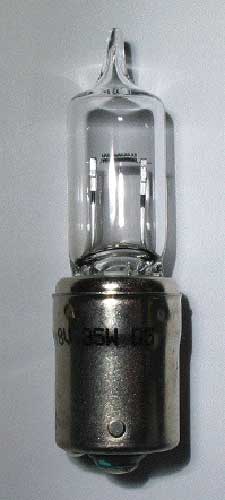 Reverse Light
796 - gives you almost 100% more light when you shift into Reverse, without any heat and power draw concerns. This ultra long life upgrade replaces the following standard bulbs:
European P21W or 7506
American 1156, 1073, or 1141
---
Euro Light Bulbs
| | | | | | |
| --- | --- | --- | --- | --- | --- |
| Application | Standard Bulb Type | USA Ref: | UK Ref: | Hella Ref: | Remarks |
| Flasher/ Turn signal | 12V 18W Type BA 15s | 78186 | 382/18 | | |
| Stop/Brake | 12V 15W Type BA 15s | | 334 | 8GA 002 081 121 | |
| | 12V 21W Type BA 15s | 78186 | 382 | 8GA 002 073 121 | |
| Main Beams | 12V 60/55W H4 P45t | 78155 | 012 | 8GJ 002 525 131 | |
| Parking Light | 12V 4W Type BA 9s | 78223 | 233 | 8GP 002 067 121 | |
| Clearance Light | 12V 5W Type BA 15s | 78232 | 207 | 8GA 002 071 121 | |
| Fog Light | 12V 35W Type BA 20s | | | 8GA 002 083 131 | |
| Instrument | 12V 2W Type BA 9s | 78220 | 288 | 8GP 068 121 | |
| Heater Display | 12V 2W Type BA 7s | 78180 | 281 | 8GP 002 066 121 | |
| Glove Box | 12V 10W?? | | | | Festoon |
| Courtesy Light | 12V 5W SV 8.5-8 | 78203 | 239 | 8GM 002 092 121 | Festoon |

< Converting US and European style headlamps | Main.TrailIndexPage | Dashboard Instruments >