Main.TrailIndexPage | Electrical Systems | Electrical.Connectors
Connectors
This component is part of Electrical Systems.
Definition
The connectors used in the Mercedes-Benz wiring are made of hard plastic, and consist of a box with room for round pin bushings, intended to be soldered to wiring, and a cover. Most of these are still available new from our well known suppliers. They were used in many different forms (round, rectangular and even triangular) with a varying number of posts: anywhere from 2 to 14. Clearly the connectors with 14 posts are actually quite expensive.

Function
For a detailed look at the wiring of the system, visit the Wiring Diagram.
The document below lists all connectors, pinouts, and colours of the main wiring circuit. If one of your connectors has broken and you need to hook it up again, this document is essential.
Even though this document states it is not for the 280SL I have found it to be correct for most connector pinouts I've done troubleshooting with, and until there's a better source document, this is the most useful we have. The reader beware, it may be incorrect.
Examples of connectors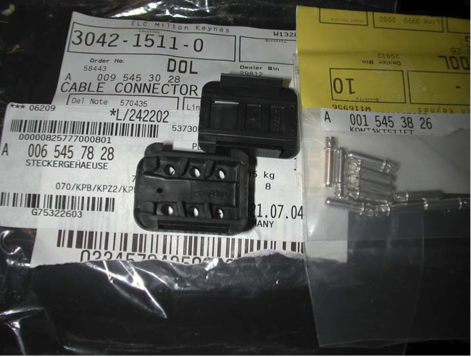 6 pin free plug – Male pins
 A 006 545 78 28     plug housing
 A 009 545 30 28     cover
 A 001 545 38 26     male pins (called a pin bushing)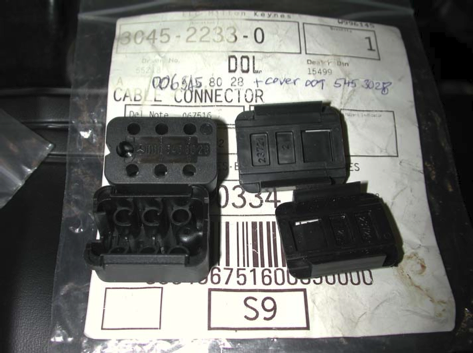 6 pin free socket – Receptacle contacts
 A 006 545 80 28      socket housing
 A 009 545 30 28      cover
 MA 003 545 26 26   socket contacts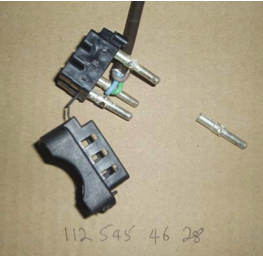 6 pin piggy back in-line connector
 112 545 46 28       connector housing no longer available.
 012 545 46 28       used for trailer couplings
 010 545 52 28       combined socket/pin insert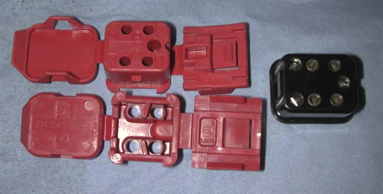 4-pin free socket – Receptacle contacts
 014 545 85 28        socket housing
 MA 003 545 26 26 socket contacts		
 or
 000 545 32 28        4 pin socket (complete)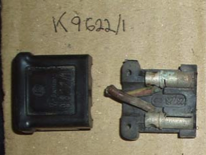 K9622/1
 008 545 37 28      pin bushing housing 2 pole
 008 545 38 28      cover
 003 545 26 26      socket contacts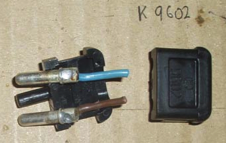 K9602
 009 545 44 28      plug housing
 009 545 45 28      cover
 001 545 37 28      pin contacts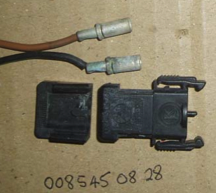 008 545 08 28
 008 545 08 28      pin bush housing with claws
 008 545 11 28      cover
 or
 012 545 04 28      pin bush housing with claws
                                 and integral contact
 001 545 44 26      socket contacts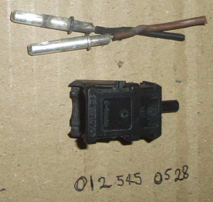 012 545 05 28
 012 545 05 28      plug housing
 013 545 79 28      4mm contact pin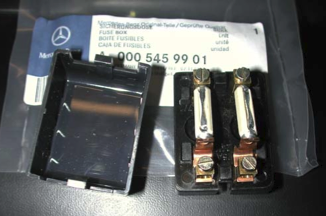 2- way Fuse box
 A 000 545 99 01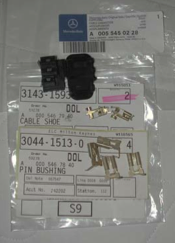 Bosch K1 Alternator Europlug
 A 000 545 02 28         housing
 A 000 546 79 40         0.25" Receptacle 
 A 000 546 78 40         0.375" Receptacle (2 off)


< Electrical.Wiring diagram | Main.TrailIndexPage | Electrical.Fuses >