Main.TrailIndexPage | Chassis and Body | ChassisBody.Windscreen | Windshield
Windshield
This component is part of Chassis and Body.
Mercedes-Benz supplies 2 windshield replacement options for the 113, clear and tinted. Most window glass sold by Daimleris currently manufactured by "Saint Gobin".
Example of new "tinted" replacement windshield glass still in the box: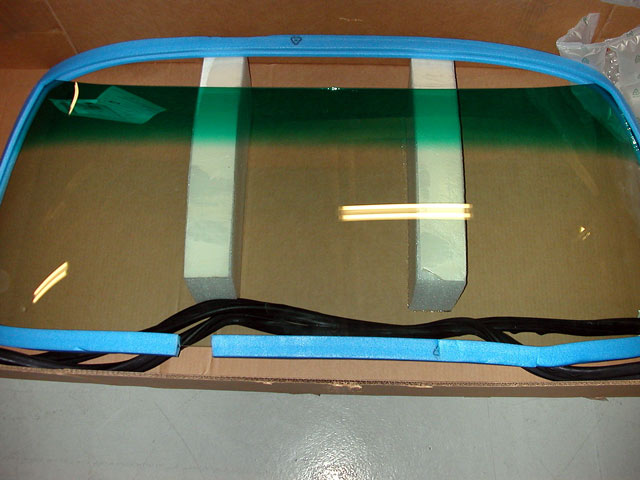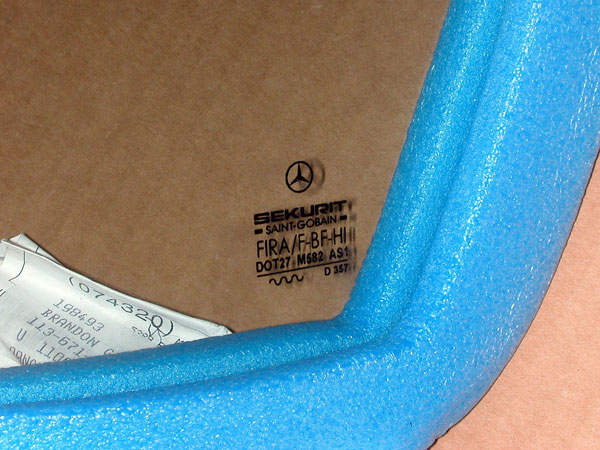 Installation
Installation of the windshield works best with the aid of a second person. For best results, use an original Mercedes-Benz rubber seal.
1. Place the rubber seal around the windshield
2. Use a new aluminum trim surround (if possible) and one that IS NOT Bent! Note: even if order a new one, it may take several reorders to get one that is not bent!
3. While one person holds the windshield (on the floor or bench) gradually install the trim surround into the rubber seal. Use of some silicon spray may help with this process... There is a groove in the rubber seal that holds the rear of the trim surround in place. This is sort of a "lock" groove.
4. An optional addition to the rubber seal, is to add some sealer under the rubber seal for added water tight protection.
5. Once both sides of the aluminum trim surround are installed, lift the windshield onto the car and set the lower end of the windshield in place with the upper end tilted outwards. This is also where an assistant helps greatly.
6. Install the driverís side wood dash bow (if not already in place).
7. While one person holds the windshield in its outward & forward tilted position, the second person installs the "pull rope" around the inner lip of the rubber seal. Use the pull rope to assist with pulling the rubber inner lip into the cabin area.
8. While gradually pulling the lower lip of the rubber seal into the cabin area, start to let the windshield fall backwards and into position. Gravity will help it to fall into place. The hard part is to MAKE SURE that the aluminum trim surround stays "locked" in its rubber channel. As the windshield falls into place, it pinches the rubber seal together and locks the aluminum trim surround. This is why it is almost impossible to remove the trim without removing the windshield (unless it was not installed correctly to begin with, or the rubber seal is old...)
9. As you allow the windshield to fall into place (gravity assisted), it will sort of "pop" into place....
10. Install the small center trim piece on the top portion of the trim surround.
Check all four corners to assure that the rubber seal has not pulled away from the aluminum trim and created a gap. Otherwise you will have acquired a "whistling windshield" with lots of wind noise!

A temporary solution to stop the noise is to fill the gap with some black rubber cement.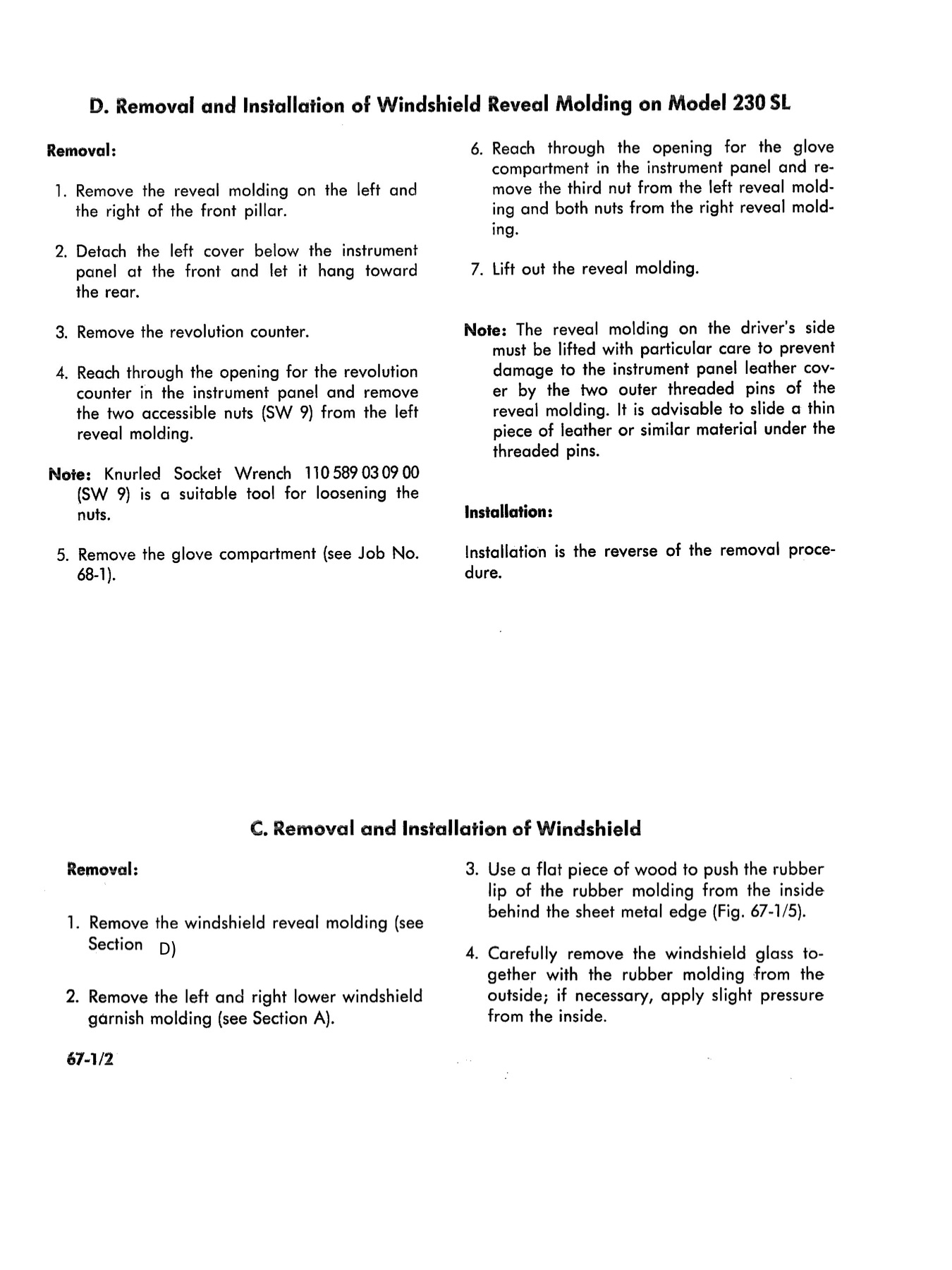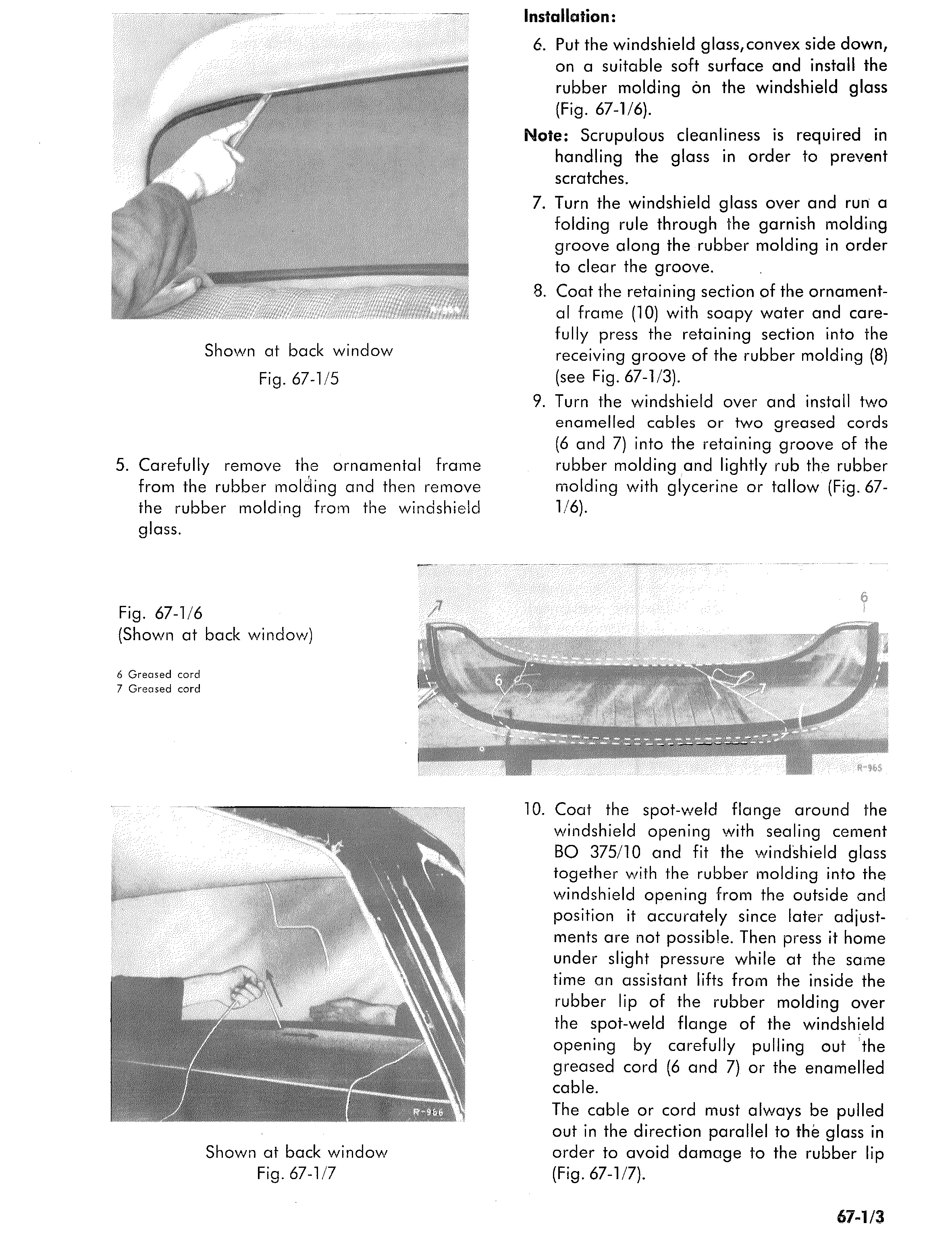 < ChassisBody.Windscreen | Main.TrailIndexPage | Windscreen washer >